Join the European Chambers for an insightful evening, as we explore the economic impacts of upcoming disruptions caused by Generative AI.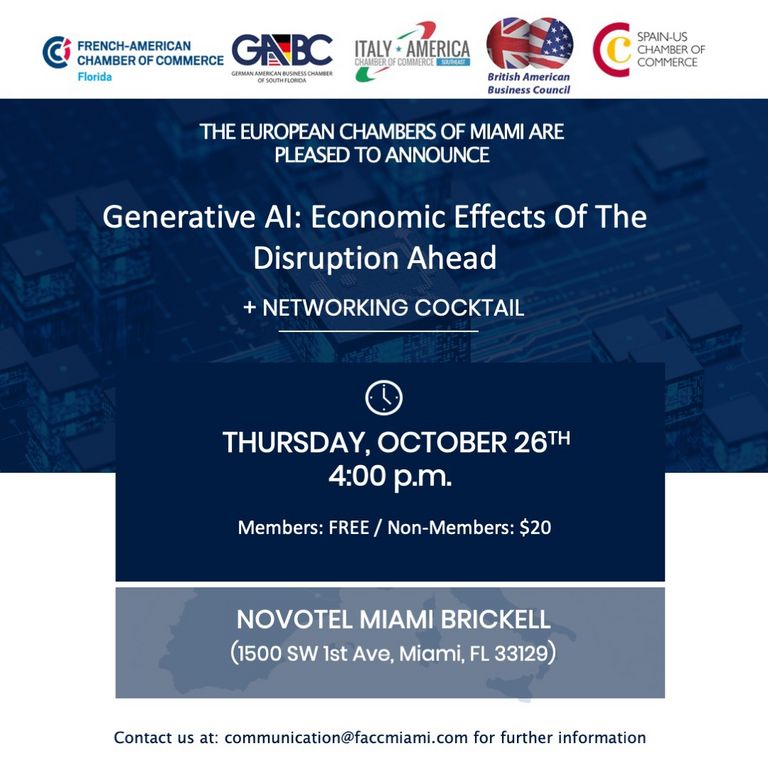 Our upcoming event will start with a session about the main economic impact of the disruption of Generative Artificial Intelligence, analyzing its profound effects on productivity, labor markets, inflation, and corporate valuations. The talk, provided by Ignacio de la Torre (Ph. D. Chief Economist at Arcano Partners), offers attendees an invaluable opportunity to explore the dynamic landscape of this disruptive technology.
After the Conference, a Networking Cocktail will take place at the Novotel´ s breathtaking Rooftop. A perfect opportunity to share insights, exchange ideas, and forge meaningful professional relationships, all while enjoying a relaxed and enjoyable evening.
Arcano Research is the macroeconomic, technology, real estate and market research unit of Arcano Partners, an alternative management and investment bank leader. They provides quality, rigorous, easy-to-read, and independent analysis, an essential tool for corporate and investment decision-making