Join us for a Miami Beach Clean Up à la française! Let's make a difference, where we come together for a day to restore the beauty of our coastlines.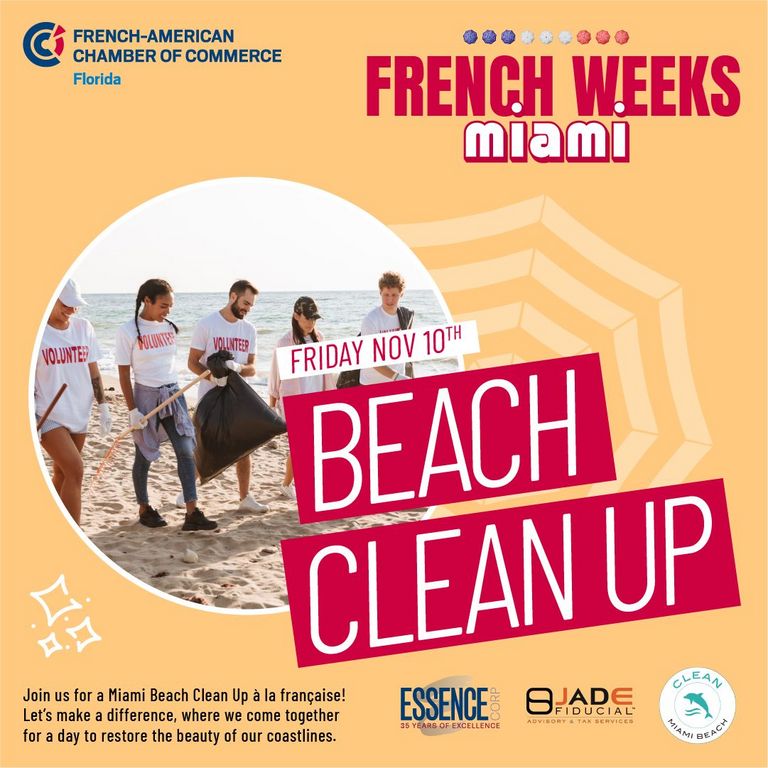 🌊🌴 Join us for our French Weeks Beach Clean Up event! 🇫🇷🌎
📅 Date: November 10th, 2023
🕒 Time: 3:00 PM to 5:00 PM
🏖️ Location: Miami Beach
We are thrilled to partner with Clean Miami Beach for this meaningful initiative, made possible by our generous sponsors: Essence Corp, Jade Fiducial, and FACC (French-American Chamber of Commerce Florida).
Here's what to expect:
🌱 Environmental Impact: Be part of the solution by helping us clean up and preserve the natural beauty of Miami Beach. Our collective effort will make a lasting impact on the local ecosystem.
🤝 Community Bonding: Connect with like-minded individuals who share a passion for the environment and a commitment to making a positive difference in our community.
🌞 Fun and Sun: Enjoy the beautiful Miami Beach weather as we work together to clean up the shoreline. The sun, sand, and sea make this a perfect setting for a day of giving back.
🌟 Sponsorship: We're grateful for the support of our sponsors, Essence Corp, Jade Fiducial, and FACC, whose commitment to environmental responsibility and community engagement has made this event possible.
Let's come together to make a significant impact on the environment while celebrating the spirit of the French Weeks! 🌊🌿
---
KEY INFORMATION - DAY OF THE EVENT :
- PARKING | WILL BE CHALLENGING!
Limited metered parking on streets surrounding. There is also a parking garage named "Pelican Garage Parking - ParkChirp", which is located at 1041 Collins Ave, Miami Beach, FL 33139. The cost is $20. Please calculate extra time for parking.
- We advise you otherwise to use services such as Uber/Lyft or carpooling to get to the event. Suggesting also ride-share, bike or free trolley.
- Don't forget to bring your ID with you!