FRENCH WEEKS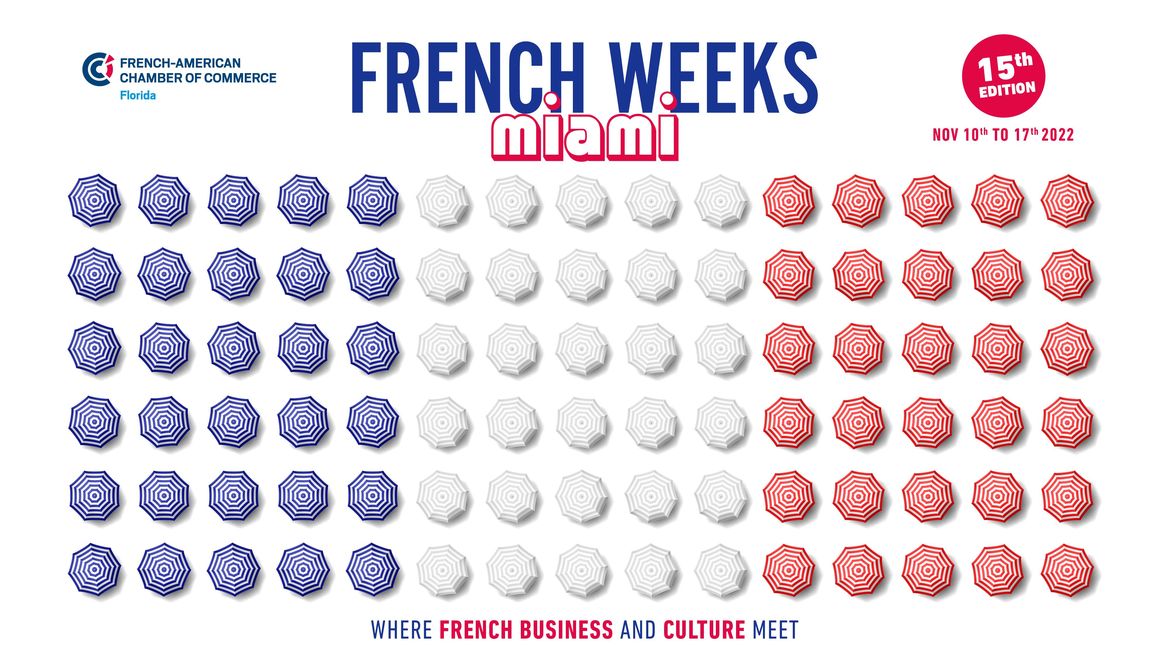 After a two year hiatus, French Weeks Miami is back for it's 15th edition. After long periods of social distancing and isolation, we are excited to reunite the French community to celebrate this new chapter and meet the new consul, Raphaël Trapp.
French Weeks Miami has showcased French economic and cultural contributions in Miami and Florida for the past 15 years. A variety of events have been scheduled for this years' agenda. From wine and champagne tastings and film screenings to business seminars, there is something for everyone to enjoy. This year's opening ceremony is special as Mr. Trapp will be introduced.
Raphaël Trapp has had a long history with the Ministry of Foreign Affairs. After graduating from the Faculty of Law at the University of Paris XII and the Institute of Administration, Mr. Trapp joined the ministry in 2003. He spent years working in the Human Rights unit in roles such as a Legal Advisor to the United Nations, and an establishing member of the Commission of Inquiry on Human Rights violations in Syria. He has championed the universal protection of freedom of speech, and the fight against arbitrary detentions and death penalty.
In 2013, Mr. Trapp joined the French embassy in Morocco, followed by years at the Secretary General department of the Ministry for Europe and Foreign Affairs. In 2019, he was appointed Deputy permanent Representative of France to the United Nations and the International Organizations in Vienna (Austria) and worked on the nuclear Iranian file, on space affairs and on combatting cybercrime.
French Weeks Miami 2022 marks a new beginning for local French community as we look forward to innovation, opportunity and growth.
We look forward to seeing you all again November 10-17th 2022!
Copyright: Christophe Roué
On this 15th anniversary of French Week we remember with gratitude Jacques Brion. As FACC President he envisioned a week in the fall in which the French business community of Florida would promote France through economic, cultural and social networking events.
We carry on his will with passion every year. We are #FACC
Avant Première
Welcome to the Miami Film Festival GEMS 2022!
Sponsored by TV5Monde
Enter Promo code "tv5monde" -for a 10% discount on tickets to the films below.
Opening Cocktail Ceremony
The Opening Ceremony will welcome everyone for cocktail at the Consul General of Miami Residence. the French Weeks Miami will be officially launch by the French Consul General Raphael Trapp and the president of FACC Florida, Christophe Poilleux.
Lunch & Pétanque Tounament
Join the FACC team for a delicious lunch and Petanque Contest at the iconic Nikki Beach
Welcome Drink included
Champagne Tasting and Food Pairing at Villa Azur
Join us at Villa Azur for a fun and elegant moment. Enjoy a sampling of Frere Jean Freres Champagne along with delicious bites by Villa Azur.
A tribute to French Literature
5 francophone authors will welcome you for a friendly book signing at Paul Bakery on Lincoln Road
Eve-Alice Rostang, Tangi Colombel, Sandrine Jeanne Ferron, Sandrine Mehrez Kukurudz, Anna Alexis Michel
Enjoy a French Aperitif and a taste of books!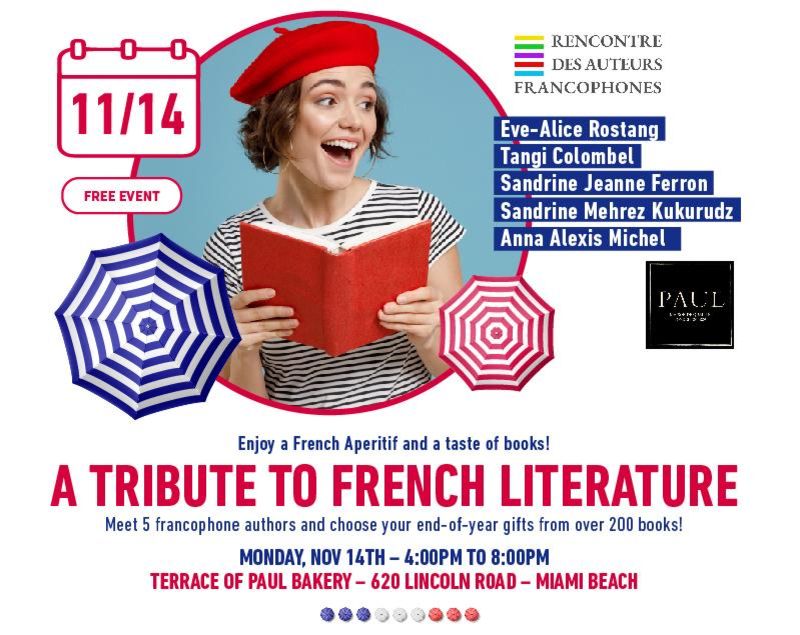 MIAMI LIVE
Invest and implement a business in Florida
Meet the FACC experts and ask then your questions
CURSUS PRESENTATION "LE FRANÇAIS DES AFFAIRES"
Presented by AFMM director Stanislas Riener.
The Alliance Française Miami Metro offers specific French language classes to professionals, emphasizing on mastering skills needed for business. "We believe your non-French speaking key employees would bene
Closing party - La nuit Blanche by French & Famous
Join us to celebrate the closing of the French weeks Miami, enjoy some music, DJ's , performers, raffles and silent auctions.
An all white affaire (All White mandatory attire except shoes).