Job Offers
Space Lighting: E-COMMERCE SPECIALIST
Join Space Lighting, distributor of Luxury European Lighting for the NA region (US + Canada) since 1992. We carry lighting brands such as Oluce, DCW editions, Smart and Green and our clients are luxury furniture stores, E-commerce and Interior designers.

The Mission:
The E-Commerce Manager is responsible for the perfect execution of our 10 brands on our clients e-commerce sites (like Wayfair, Ylighting…). In collaboration with the Marketing Manager and suppliers, the E-Commerce Manager develop the marketing plan and select the tools to deploy to the clients. Insure perfect execution on the retailers sites. The person is responsible for the image of the brands online and the sales.
Responsibilities:
Responsible for the ecommerce (about 20 clients) company turnover
Manage the online activities for the e-commerce clients (co-op, promotions, new products, exclusivities..)
Manage relationships with the e-Commerce clients
Present the new products to the clients and negociate the launch agreement (exclusivities, coop..)
Organize quarterly meeting with top 2 clients to review business results and put in place plans for the coming months.
Look and open new E-commerce accounts.
SEO
Manage the E-merchandizing on the 15 e-commerce websites (description of the products, selection of the best photos, pricing…).

Deploy information to the Ecom for implementation
Track that all the products (over 800 products) are correctly displayed on the clients website (right photo, pricing, product description, shipping lead time..)

Update the product database (add novelties, pricing, photos..)
Send our inventory weekly/daily to the clients and track that they have updated information on the sites.
Reporting:

Track the sales performance of the brands, clients and promotions and make recommendations
Check competition best practices on top 3 retailer websites

Customer service and order processing whenever is needed
Profile of the candidate:
Have a special sensibility on luxury products and attention to details. Our final clients (mostly designers and architects) and supplier are expecting high quality services.
Should have E-Commerce experience (min 2 years)
Candidate must have an entrepreneurial mindset, be agile and adaptable. Opportunities to grow in the company and take on more responsabilities.
Perfect verbal and written English. French a plus
No sponsorship possible
Very good skill on Excel and PowerPoint and Knowledge of Mac (Quikbooks a plus)
Benefits: Salary based on experience + bonus + contribution to medical care
.
Space Lighting: E-COMMERCE AND MARKETING ASSISTANT
Responsibilities:
Order processing:
Process orders for e-commerce clients via quickbooks.
Prepare and track back orders for products not in stock.
Quote shipping and update tracking info as needed
Insure pricing on customer orders are correct (retail and discount)
Customer Service (by email and phone):

Inform client on the tracking of their orders
Assist customers effectively by solving customer disputes
Provide customer additional information or explains services
Discuss products offered and ensures customer satisfaction

Assist Marketing:

Manage the company social media (pinterest and Instagram)
Update the company website (workpress)
Create/assist on the company newsletter (Mailchimp)
Profile of the candidate:
Candidate must be a team player.
This position is an open door to great opportunities as we will not limit you to this list but encourage you to grow and become a key player of the organization.
Must be permitted to work in the US.
Preferred Skills: - Previous customer service experience or similar, Detail oriented - Knowledge of Mac, Excel, Powerpoint - Basic math skills - English (perfect grammar).
Salary: based on candidate
CONTACT: Geraldine Lattes, Sales Director
geraldine@spacelighting.com
.
JOORNEY BUSINESS PLAN: Executive Sales Administrator
Full-Time position

Office/remote flex space

Job description
Our Executive Sales Administrator to our Sales Manager and Director of Sales is a superstar sales assistant who understands the dynamic of:
managing our sales director's emails
scheduling calls
stepping in to close deals
steps into account management
identifies upselling opportunities
anticipates and solves situations before our executive team does
Tasks will include:
CRM Management
Contract Management
Reporting
Email Management
AR management
B2B calls
B2C calls
Closing contracts
Partnerships Management
Testimonials Management
Desired Skills and Experience
Qualifications:
• Ideal candidate will have interactive experience supporting a sales executive
• The candidate should be detail oriented, able to engage in client facing conversations and exhibit problem solving abilities. The candidate should also be extremely autonomous.
• The candidate must have experience with maintaining CRMs
• Must be able to communicate effectively, adhere to deadlines and be a flexible team player.
• Must be effective at light project management tasks for customer service purposes.
• Proficient with Microsoft Excel and PowerPoint, Salesforce.com a plus.
• Bachelor's degree
LINK TO APPLICATION:
https://www.linkedin.com/jobs/view/2408827540
ASSESSMENT:
Candidates will only be considered upon completion of the assessment.
https://www.ondemandassessment.com/link/index/JB-WQ0JNC2W7?u=1031047
Please contact admin(@)joorney.com if you have any questions.
.
Club Med US - Product Marketing Coordinator - North America
VIE contract & conditions – 16 months / -28yo / French citizenship or European Candidate must already have a US VISA/Green Card or Citizenship

JOB OVERVIEW
The Product Marketing Coordinator participate in defining, coordinating, and implementing the Product Marketing strategy for North America, in support of the company's strategic goals, revenue growth targets and guest satisfaction KPIs.
As a product marketing Coordinator, you are telling the world (and company) the story of our North American resorts. You will be expected to be our chief advocate for each Resort's unique selling points, must try experiences and novelties. Additionally, you will be charged with crafting the product strategy, as well as the messaging and marketing plan for new Resorts & existing resort extensions or enhancements.
The position is part of a dynamic and results-driven Miami-based marketing team, located in the North American headquarters for Club Med. You will report to the Head of Product Marketing - North America.
MAIN RESPONSIBILITIES
Mission 1:
Major New Product launches: Oversee product strategy, customer experience design & communication plan
Develop the product vision, positioning, and guest experience for new resorts and major extensions

Influence designer & architect selection, create design brief and formulate recommendations for final

validation by Design Committee

Participate in coordinating an impactful and innovative 3600 communication strategy for the launch

Contribute to execute inaugural & opening events (with press, investors, Travel agents, etc)
Mission 2:
Ongoing Product Marketing Animation: "keeping it fresh" for existing resorts thanks to incremental product evolutions and marketing animation
• Define and implement in collaboration with Operations department the Product vision for the 10 North
American resorts of Florida, Mexico, Canada and the Caribbean (Punta Cana, Michès, Sandpiper, Cancun,
Columbus, Ixtapa, Turkoise, Québec, La Caravelle, Buccaneers Creek)
Identify and support implementation of Marketing innovations and/or product-centric partnerships

Be on the lookout for client needs and major travel trends and be the marketing referent for trend

watching

Develop strong business partner and network relationship with Operations & Development teams, as well

as with worldwide counterparts in the Product field, to increase global company synergies and collaboration
Mission 3:
Coordinate Product Communication Plans
• Create toolkits including photos, videos, product decks, trainings, interviews etc. for product novelties or
innovations in the NAM Resorts, ensuring that commercial teams (sales & marketing) have all the assets
and information in hand to successfully sell the product.
Coordinate internal communication towards commercial teams, both within North America, but also

towards other commercial countries who send guests to North American resorts.

Collaborate with marketing teams to define multi-channel and multi-target 3600 communication plans for

the North American markets to promote our products.
DESIRED SKILLS AND EXPERIENCE
Education and Experience
Bachelor's in marketing or communications (or related fields), Master's degree preferred

Minimum 2 years' experience Marketing, preferably in the travel and tourism industry (cruise lines,

leading resort or hotel brand)

Knowledge of the Hospitality industry and all-inclusive market would be a big plus.
Skills/competencies
In-depth knowledge of the tourism industry

In-depth knowledge of the structure of the travel sector (key players, major events, etc)

High level of marketing expertise : building a marketing strategy, formalizing marketing concepts,

copywriting ...

Good analytical skills, with the ability to build recommendations based on collected data.
Creativity, sparking innovation

Networking skills

Excellent written and verbal communication skills

Microsoft Office Suite proficiency
Behavior
Good operational agility, with a strong sense of initiative to make things happen

Confidence and persuasiveness in interacting with other departments

Good time and multiple task management, ability to react quickly

Business oriented

Highly detail-oriented, deadline-driven, thrives in a fast-paced work environment

Willingness to learn, positive attitude, open minded

High compatibility of character with the Club Med Spirit and perfect representation of the Club Med

values: friendly, fun, multicultural, dynamic

Good listener and observer, with Emotional Intelligence

Ability to travel
Languages
Complete fluency in English is required

French is a significant plus
Missions :
!! Starting asap !!
VIE contract & conditions – 16 months / -28yo / French citizenship or European Candidate must already have a US VISA/Green Card or Citizenship.
If this is you, please send your resume to Anne-Sophie.Baret@clubmed.com
.
BOW Group is a multi-channel Consumer Electronics products provider, bringing a fresh approach to the category through fashion design and affordable products, easy to use mobile applications and professional customer care. The company currently operates a
As a Customer Care Team Member, you will join a team who supports our daily customer enquiries whether is it for simple questions or technical support.
The Customer Care team connects with customers over a dedicated online platform, email, and chat to help user to get the best out of their device.
In this critical role, you will represent the company in front of consumers but also help designing and improving operational processes and create a consistently excellent customer service experience to BOW Group customers.
This role relies heavily on self-motivation and desire to serve skills in a challenging and fast changing environment.
This position reports to the Chief Product Officer based in our Geneva Headquarter.
What will describe best the ideal candidate?
Use every customer interaction as an opportunity to illustrate Above & Beyond customer care.
Strong interest in consumer electronics and wearables.
Knowledge of web services and mobile applications.
Excellent organizational and communication skills (oral and written)
Write and deliver regular update documentation together with the team to present a weekly report to Management.
Be creative on a daily basis on how to better serve our end users as well internal services
Identify areas of improvement and help develop customer care department
Create a collaborative environment where peers feel respected, motivated and encouraged to reach excellence.
Continuously illustrate and demonstrate how BOW Group's values should be lived in day-to-day operations.
Be proactive in addressing performance problems. Act as a problem solver.
Ability to prioritize, multi-task and report in a fast-paced and multi-cultural environment
Prior knowledge and experience with ticket-management platform like Zendesk will be an asset
Main duties and responsibilities
Reply and manage incoming customer inquiries while providing an outstanding level of customer service through clear and accurate communication
Ability to maintain regular and punctual attendance.
Assist Product Development and QA Teams with bug tracking and resolution.
Make active contribution to our community satisfaction
Develop a deep understanding of products. Build a self-training program so that Customer Care colleagues are current in their knowledge of available products.
Identify workflow and efficiency improvement opportunities. Keep a rolling list of improvement priorities. Implement solutions and evaluate efficiency.
Maintain expert-level knowledge of all workflows and exemplify best practices for work completion.
Experience & Education
Bachelor degree required.
Experience in customer contact or service center.
Proven exceptional customer care skills.
Ability to think and react in a high-energy, fast paced environment.
Self-aware, development focused mindset.
Excellent written and verbal communication skills.
Strong and positive work ethic.
Proficiency in MS Office Suite
Fluent in English (native language), Spanish, French is a plus
Additional language will be a great asset
Salary: To be discussed according to the experience
Starting date: asap
Location: Biscayne BVD Miami, FL 33132
If you are interested please contact our Senior HR : a.granger(@)group-bow.com
.
FLORIDA INVEST: Property Manager
• Managing the communication with the tenants and our hotline,
• Dispatching work orders for maintenance to our contractors,
• Administrative management of properties and payments for "money out", not limited to gas & electricity, maintenance, repairs,
Florida Invest is an innovative real estate investment firm that has been providing services to more than 3,000 worldwide investors to invest in the United States using a secure, profitable and easy approach. We deliver a complete transparent and totally supported approach of real estate investment for international investors, specifically adapted to their own patrimonial strategy and situation. It is for that reason why Florida Invest developed a large expertise offering a complete investment chain, which gives us a unique position in this industry. Florida Invest bases its development on strong values, such as sustainable development, impact investing, transparency and confidence. In fact, everything within Florida Invest is based on a long-term vision to provide sustainable growth.
Florida Invest is starting a major development period, using the consolidation of its strengths such as property management, our market expertise and the development of new financial investment methods to multiply the offers, the market segment, and finally the profit.
This strategy is unique in our market segment. With a portfolio of 99% of French clients, Florida Invest is becoming the real estate investment reference between Florida and France as well as other countries. This is essential to increase our activities and our turnover.
In this context, Florida Invest needs to find the Property Manager to contribute to the Business development.
Job description:
Managing the communication with the tenants and our hotline,
Dispatching work orders for maintenance to our contractors,
Administrative management of properties and payments for "money out", not limited to gas & electricity, maintenance, repairs, appliances, cleaning (…)
Participating to specific projects as part of the development of our property management activity.
Job Requirements and Qualifications:
Work permit in the US
Propertyware Software experience is a plus
Real Estate experience is a plus
Fluent in English and Spanish (speaking, writing, listening and reading), French is a plus
Outstanding organizational skills
Great Problem-solving aptitude and communication skill
Job type: Full time
Work location: North Miami
Send your resume at: sales(@)florida-invest.com
.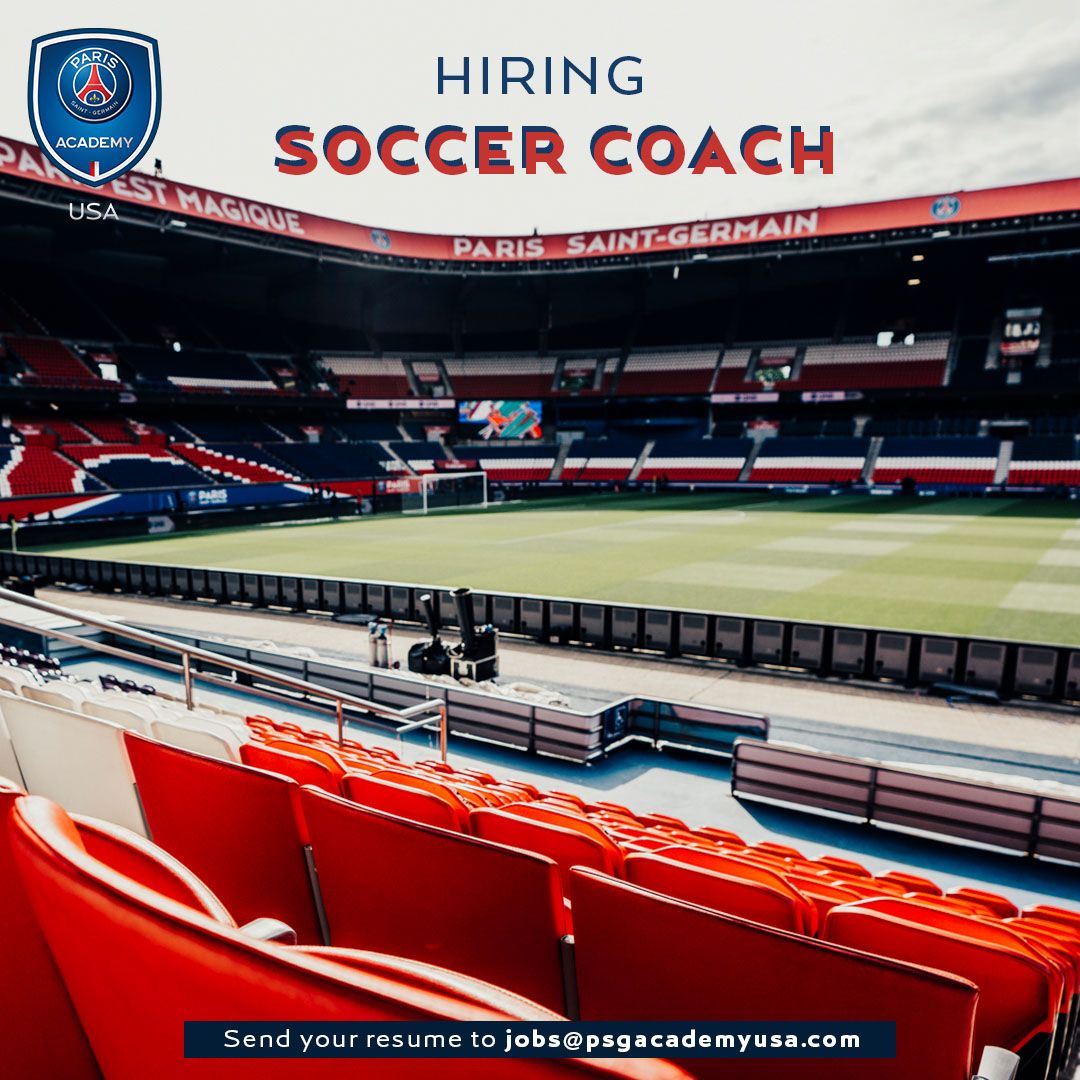 ESSENTIAL DUTIES & RESPONSIBILITIES:
Training and coaching
Within the structure of Paris Saint-Germain Academy USA, prepare and deliver a high-quality soccer training program in accordance with the PSG program and methodology, aimed at achieving individual and group objectives for student-athletes, based on their age and skill level.
Participate in all Paris Saint-Germain Academy coaching seminars and workshops, coaches' trainings on and off the field, monthly meetings, etc.
Work closely with all members of the soccer staff to continually review the program structure, content, delivery, objectives, and resources, making recommendations where changes could improve quality or opportunities to grow the academies.
Communication
Have open two-way communication between student-athletes, parents and guardians, on the progress of the student-athlete and the plans and goals that have been set.
Advise the student-athletes on tournament schedules, pre-tournament preparation, post-tournament review to optimize and measure performance.
Be cordial and respectful when dealing with parents, guardians and families.
Interact with student-athletes as a mentor and as an educator of their sport and life.
Safety
Ensure the safety of all participants before, during, and after all events.
Adhere to all company policies, procedures and business ethic codes.
*Perform other duties as assigned.
QUALIFICATIONS/SKILLS
Soccer coaching license certification: minimum USSF D license or equivalent required
Minimum 3 years of experience in the environment of youth soccer
Knowledge of the US Youth Soccer system
Good knowledge of the teaching and development process in soccer, pedagogical and didactic skills
Excellent verbal communication skills in English
Passionate, personable, positive, highly energetic, enthusiastic, and reliable
Desire to work collaboratively with colleagues
PREFERRED SKILLS:
Bilingual (Fluent in English. Spanish/French are a plus).
Must have or be willing to obtain CPR and First Aid certificates.
Valid driver's license with ability to drive for tournaments, games and travel.
Should be able to handle outdoor temperatures for a reasonable period of time.
Ability to work flexible hours to include nights, weekends, and holidays is required.
Willing to learn and grow professionally in a fast-paced environment.
Experience in public speaking (seminars, workshops, etc.)
MANDATORY REQUIREMENT: Residence in South Florida and ability to travel anywhere in the United States for extended periods of time.
Requires a background check upon offer.
Requires a drug check upon offer.
Authorized to work in the United States.
CONTACT: